In rural Colorado, nurse practitioner Becky Hutcheson battles a health care system she calls "very broken."AKRON, Colo.
Kent Vance has thick hands that bear the callus scars of installing heating and air conditioning systems and tending his family's century-old farm.
On this day, however, his right hand is thicker than usual. It is swollen.
It has been days since Vance cut his hand on some sheet metal. But like so many rural residents of Colorado, Vance lacks health insurance. So he almost never goes to the doctor until he faces a medical emergency.
Actually, Vance can't even go to a doctor for an emergency. Not unless he wants to drive 35 miles or more. The Colorado Health Institute reports that only one doctor lives in Washington County, a sprawling tract of prairie in the northeastern part of the state. But no one you talk to can remember a single doctor who lives here.
So Vance sits on an examination table in the Washington County Clinic in the county seat of Akron while nurse practitioner Becky Hutcheson diagnoses an infection and sorts through which antibiotic would best treat it.
After discussing Vance's father's near-fatal allergy to penicillin, Hutcheson settles on Keflex.
"If your hand gets more red or if you get red streaks up your arm or if it becomes more swollen and you get pus, come back and let me know," Hutcheson tells Vance. "If you develop a rash, take Benadryl with the antibiotic and eat before you take it."
But, the nurse practitioner stresses, take the medicine.
"Don't skip any doses and don't save any pills," she says.
Hording medicine is not just a problem in rural America. Yet out in the country, where a lack of health insurance combines with a tough-it-out farmer/rancher mentality, the country's broken health care system seems to be shattered into a few more pieces.
"I wait as long as I can, and when I can't wait any longer, I come in," Vance says of his approach to doctor visits.
The idea that this could lead to needless pain, more expensive treatment and, in the worst case, life-threatening complications doesn't seem to compute.
Statistics show at least four Colorado counties besides Washington – Bent, Crowley, Park and San Juan – have no doctors living in them. In most cases these counties are not just rural, they are poor.
In August, Colorado Gov. Bill Ritter issued an executive order establishing the Colorado Rural Health Care Grants Council. The council will spend the next six years doling out a $7.5 million charitable gift from the private medical provider UnitedHealth Group.
Everyone hopes the charity turns out to be more than a band aid on a severed limb.
It isn't just a lack of physicians that affects rural health care in Colorado and across the country. Hutcheson's patients get quality treatment when they show up at the clinic the four days a week she is there.
She's even made house calls. She gets buzzed on her personal cell phone on weekends because that's the number on the answering machine at the clinic. This summer she drove 30 miles from her home in Brush to celebrate an Akron town fair but ended up opening the clinic to treat someone with a seizure and someone else who burned himself while working on the radiator of his car.
The wall of Hutcheson's office includes pictures of famous nurses Clara Barton and Florence Nightingale. A small framed poster includes a quote from Mother Teresa. The quote says, "God won't give you anything you can't handle."
In three years practicing in this rural clinic, patients have presented Hutcheson with infections, respiratory distress, pneumonia, clogged arteries, appendicitis, ulcers, broken bones, skin lesions, frost bite, burns, lacerations, menopause, erectile dysfunction and a host of other maladies.
She treats roughly nine in ten folks and refers the rest to doctors and hospitals long drives away.
Yet even with an Internet full of clinical support, Hutcheson and the physician who drives in from out of town once a week to hold office hours in the Washington County Clinic face challenges they would not face in Denver or Fort Collins.
They have no lab facilities. So it takes 24 to 48 hours to get routine test results. It takes two or three days to get an x-ray read.
And then there is the working poverty of too many of their patients. Hutcheson says a lot of the people she treats are just "working to put food on the table. They're not stupid. They work hard."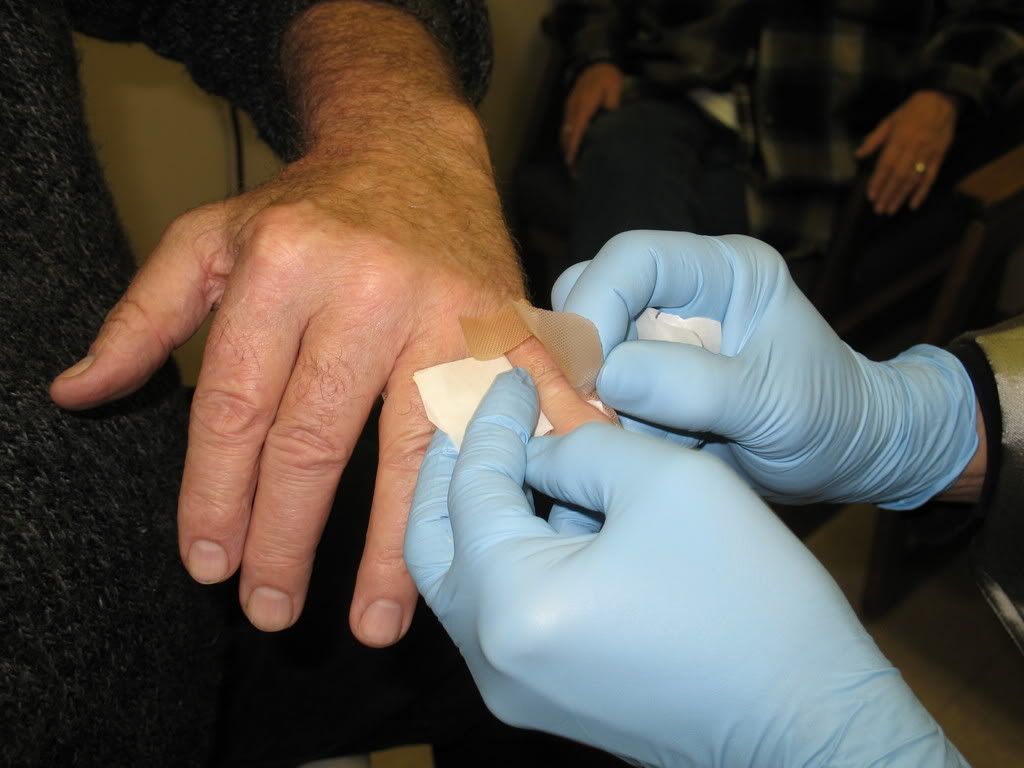 Still, many of them live one medical crisis from financial disaster.
"I have people come in, and I say, 'I really need a CAT scan of your abdomen.' And they say, 'I can't pay for that,'" Hutcheson recounts. "There are times when I just have to trust my gut."
She has seen tears well up in patients' eyes because there is no way they can afford the medicine and lab work they need.
"One day I wrote a prescription for a patient," Hutcheson says. "I found it later wadded up in the gutter outside the clinic. I think our health care system is very broken. Access to health care shouldn't depend on how much money you have."
Unfortunately, Hutcheson knows that it does, especially in rural areas.
"I know a person with colon cancer," she says. "I know the family doesn't have health insurance. I expect they're going to lose their ranch."
A while back, doctors told Kent Vance he needed to have his gall bladder removed. He didn't have $14,000 to pay for it and didn't want to tap his retirement savings account for the money.
So he changed his diet and lifestyle. After a couple of months the symptoms disappeared.
Vance's wife, Cindy, wasn't so lucky. She had bone rubbing on bone in her back. She had to have surgery, and the couple had to pay for it.
Meanwhile, the Vances have priced private health insurance. For regular coverage with co-pays, they would pay $870 per month, or $10,440 per year. They can knock the premiums down to $260 a month with a $5,000 deductible. That means, essentially, that the couple would still have to pay $8,120 a year out-of-pocket before they could get any help.
"Medical insurance is so expensive people can't afford it," says Cindy Vance. "You have to go without."
For this devoutly religious and all-too-typical rural Colorado family, that means literally praying for good health.
"If we have a major problem," Cindy Vance explains, "we're going to be hurting."