Want a red bullseye to stick on your cell phone or your steering wheel or your Bible so you can remember to pray for "our elections?" Glad you asked, 'cause the folks at the National Day of Prayer are standing by to send your free red dot today.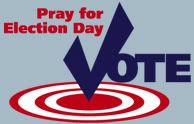 Why is the dot red? Why not yellow or green or purple or gold or, um, blue? Doesn't red mean communism? Or could it be that that bright red dot is a not-so-subtle message to vote … Republican? As in Red State? Nah. Couldn't be. Praying isn't a partisan activity … right?
The closest explanation for the red theme is this: RED IS THE VALUES WE CHERISH MOST
The National Day of Prayer's marketing campaign is posted at the campaign headquarters section at Colorado Springs-based Focus on the Family's Action Website — not so surprising, as the group's chairwoman since 1991, Shirley Dobson, is the wife of Focus founder James Dobson.
"We are encouraging Americans to place a red dot on your watch, cell phone, car's steering wheel, computer monitor, calendar, bathroom mirror; anywhere you will be reminded to pray for our elections," the campaign explains. "Request yours today …"
The campaign is accompanied by a gripping video, which takes viewers through the following frame-by-frame fragments and not-so-subliminal messaging:
WHAT'S HAPPENING TO AMERICA?

THERE IS HOPE

DO YOU BELIEVE IN …

RED?

RED IS FREEDOM

RED IS INTEGRITY

RED IS FAMILY

RED IS FAITH

RED IS THE VALUES WE CHERISH MOST

PRAY FOR THESE VALUES IN 2008

VOTE FOR THESE VALUES IN 2008

"BAD POLITICIANS ARE ELECTED BY GOOD PEOPLE WHO DON'T VOTE"

LET RED REMIND YOU

PRAY

VOTE

THE NATIONAL DAY OF PRAYER
Cara DeGette is a senior fellow at Colorado Confidential and a columnist and contributing editor at The Colorado Springs Independent. E-mail her at cdegette@coloradoconfidential.com