We've heard so much about Hillary Clinton and Barack Obama and John McCain that our eyes are rolling around in their sockets. And now Ralph Nader. Again. But what about Da Vid, who is also running for president – or any of the other more than 300 candidates with their eyes on the top prize?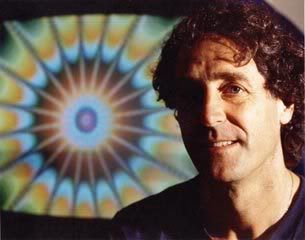 Among the nearly 325 candidates who have announced their intent to run for president, the nonpartisan research Project Vote Smart, lists a guy named Ole' Savior, an Emperor Caesar and even Alan Keyes.
And then there's Da Vid, of the Light Party, who apparently is so sure of his impending White House win that he has already printed up invitations to his a "cosmic celebration" of the 2008 Presidential Inaugural Ball on the U.S.S. Enterprise in the Pacific Ocean.
From the invitation:
The heralding epoch-making event has the potential to initiate an unprecedented Global Renaissance through transmissions of continuous, dynamically creative, artistic, musical expressions which "Inspire, Delight, Heal and Enlighten" …

In addition to the fabulous live program, we will experience the synergy and synchronization after it of beautiful music artistically integrated with spectacular special-effects and majestic natural imagery … This fusion, Artainment, creates a profoundly rich transpersonal and transcendental experience.

This inspired, meta-musical event, a climax to a 15-billion-year story, is rated FE – For Everybody…
Its official Web site describes the Light Party as "a wholistic, [sic] proactive, educational, empowerment party [that] is a synthesis of the Republican, Democratic, Libertarian and Green Parties.
"We have formulated a practical, synergistic 7-point program which addresses and serves to resolve our current socio-economic and ecological challenges…"
Light Party founder and director, Da Vid, lives in Mill Valley, Calif., and has previously run for president in 1992, 1996, 2000 and 2004. He's 60, single, and lists his religion as "Rosicrucian, Hermetic Qabalist."
He lists his professional experience as director of the Global Peace Foundation from 1988-2003 and director of the San Francisco Medical Research Foundation from 1977-2003.
And, at his site, Da Vid lists 36 organizations he is affiliated with, including; the American Holistic Medical Association, Amnesty International, Citizens Against Government Waste, the Concord Coalition, Doctors Without Borders, Green Peace, Group Avatar, the International Medical and Dental Hypnotherapists Association, Moveon.org, Norml, Public Citizen and the Worldwide Forgiveness Alliance.
This is one of an ongoing series on more than 300 out-of-the-mainstream candidates who are running for president this year.

Cara DeGette is a senior fellow at Colorado Confidential and a columnist and contributing editor at The Colorado Springs Independent. E-mail her at cdegette@coloradoconfidential.com