This weekend's premiere of the hyped movie Expelled coincides with the opening of another film — Constantine's Sword — which explores centuries of global Christian intolerance and whose stars include Air Force Academy firebrand Mikey Weinstein and the guy who won't go away — yes, disgraced former Pastor Ted Haggard.
Unlike Ben Stein's Expelled movie, Constantine's Sword, an adaptation of James Carroll's book of the same name, is opening to high critical praise — along with charges from some quarters of being anti-Catholic. Tonight's screening in New York City coincides with Pope Benedict XVI's visit to Washington, D.C. and New York.
In the controversial documentary, Carroll, a Boston Globe columnist and former Catholic priest, explores his personal struggles over centuries of religious intolerance, and, as he puts it, "things people are doing in the name of God."
"If nothing else, it demonstrates why we should feel cold shivers whenever President George W. Bush bandies the term 'crusade,'" according to the Village Voice.
The film includes footage of — where else? — Colorado Springs, home to the Air Force Academy and headquarters to numerous high profile, politically-minded evangelical ministries.
Specifically, several years ago Academy graduate Mikey Weinstein sued his alma mater, charging religious intolerance after learning that Jewish cadets were being told, among other things, that they were Jesus killers and would burn in hell. Widespread Christian proselytizing occurring at one of the military's premier institutions, said Weinstein, a former attorney in the Nixon White House and Ross Perot's general counsel, was not only outrageous, but unconstitutional.
When Weinstein first began agitating on the issue of religious intolerance in 2005, Haggard — then the president of the National Association of Evangelicals, President George W. Bush's pal, and the overtly-political leader of the biggest ministry in Colorado — routinely publicly took Weinstein on. To Haggard and many of his followers, overt Christian proselytizing among the ranks of the U.S. military, including when we're at war in Iraq, is perfectly appropriate.
Since the filming of Constantine's Sword, Haggard has been stripped of his posts, felled by a personal gay sex-and-meth scandal involving male escort Mike Jones.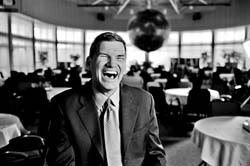 Both Weinstein and (pre-scandal) Haggard are featured prominently in Constantine's Sword. No word yet on when the documentary will make it to Colorado, but it's already a NYTimes Critics Pick. From the review:
The movie begins in Colorado Springs where Mikey Weinstein, an alumnus of the United States Air Force Academy, describes the harassment of his son, Casey, a Jewish cadet, by evangelical Christians who over several days blanketed the student cafeteria with fliers promoting the Mel Gibson film "The Passion of the Christ." There is no doubt in his mind that the film promoted an inflammatory view of Jews as Christ killers. He sued the Air Force, but the case never made it to trial.

Aggressively arguing the evangelicals' right to proselytize is Ted Haggard, the former pastor of the New Life Church in Colorado Springs, who was filmed for this movie before his fall from grace in a scandal involving a former male prostitute.

Fiery-eyed and grinning maniacally, Mr. Haggard suggests a Paul Lynde caricature of a fire-and-brimstone preacher. The evangelical fervor in Colorado Springs is the somewhat tenuous topical hook on which the movie's exploration of religion and power is hung.

Photo captions: Top, James Carroll, with the Air Force Academy chapel in background. Bottom, Former Pastor Ted Haggard.
Cara DeGette is a senior fellow at Colorado Confidential and a columnist and contributing editor at The Colorado Springs Independent. E-mail her at cdegette@coloradoconfidential.com